[ad_1]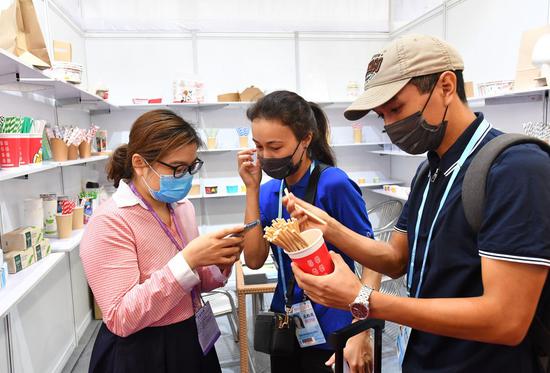 An exhibitor (left) talks over environmentally-friendly straws with Kazakh buyers during the 130th session of the China Import and Export Fair, also known as the Canton Fair in Guangzhou, South China's Guangdong province, Oct 15, 2021. (Photo: Xinhua)
Some old foreign friends of the China Import and Export Fair, also known as Canton Fair, praised the role the country's biggest trade event has played in promoting global commerce in the past decades.
Harley Seyedin, president of AmCham South China, said the fair, which was a relative small one when it was held in exhibition halls on Guangzhou's Liuhua Road in the 1990s, has now become a big event at the Pazhou International Convention and Exhibition Center in Haizhu district. The latest installment opened on Friday and runs until Nov 3 both online and off.
Many new products — especially high-tech — are on display, Seyedin said in video message.
Many American companies have exhibited their products and services at the fair, selling them to China or to various buyers in attendance, he said. He noted that he has lived in Guangzhou for almost three decades and first participated in the fair in 1992.
Ramon Sitjas Montaner, a business representative from Spain, said he found many excellent products on display, including from China's Huawei.
"I found that the quality of Chinese products has reached the international advanced level. And many foreign business representative can establish a good cooperative relationship with Chinese manufacturers through the fair platform," he said.
China's hosting the fair indicates that it supports and safeguards free trade and that the country's economic development is important for the world market and for itself, Montaner said.
Giselle Bonet, representing the Venezuela Chamber of Commerce, said the import-export fair offers a good platform and myriad business opportunities for international trade and that business representatives can easily meet and contact many suppliers, buyers, manufacturers and customers.
Bonet has participated in 16 sessions of the fair since 2013.
Maximus Ogbonna, chairman of the Nigerian Chamber of Commerce in China, said Nigeria and all of Africa are old friends of the fair, as now more and more business representatives are coming to attend, making it a good platform for trade.
Ogbonna said he has attended every session since 2003 and every time he brings many products from Africa to Guangzhou to seek expansion of cooperation and sales.
The fair, which is held twice a year in Guangzhou, is China's largest trade event and has the longest history.
It is jointly organized by the Ministry of Commerce and the Guangdong provincial government and was first held in 1957.


[ad_2]

Source link